Handwriting Analysis for Amy, female, 41
By Dena Blatt
Dear Dena,
I am currently in a marriage of 18 years. I am coming to terms with my husband and I growing apart.
I would like to find a way to find myself and passion in life again. How can I become self-confident in who I am and be happy?
– Amy Female 41 yrs
Dear Amy,
You have artistic and creative talents (esthetic spacing on page, and printed capitals)—but you don't see yourself in this way (capital "I" is not printed). Cultural and literary interests (figure "8" and "d") are evident, and you work efficiently (fluency strokes of joining one letter to the next). However, your intelligent analytical mind (angular "m" and "n") strongly rationalizes (left loop in "a" in key word "marriage and "o" in "coming") reasons why or why not something is unobtainable or unworkable.
The slant is predominantly left (fear of getting hurt emotionally), and it is strong in how you see yourself, with the left-slanting capital "I" fearing and resenting rejection (inflexible beginning stroke to capital "I"). Inwardly you are reserved, outwardly you can appear warm and outgoing (rounded "m" and "n," wide "a" and "o," and large writing)
You are handling your marriage diplomatically (tapering of letters in a word), but also at times insincerely (hook in "o" in "become"). You procrastinate deciding whether or not to divorce (t-bar to left of stem in "terms"), but you crossed out the second "my" before husband,  the word "husband" drops quickly (pessimism), and rises again with "growing apart" (optimism)—so it looks like your unconscious is telling you that you want out. However, you have a conflict over traditional/non-traditional values in marriage (traditional capital "A" in "Amy" and printed capital letters otherwise).
The conflicts are manifested in irritation (dashes for dots), changeability from pessimism to optimism (concave lines)—and back to pessimism (downturned ending to "y" in "happy"), sexual frustration (large lower loops with endings that do not reach the baseline), and repressed feelings (retraced "m" in "myself").
You ask how do you become self-confident in who you are and be happy. You are a seeker philosophically and spiritually (pointed "l' in "like"). So first you must know that the real "you" is O.K. without the limitations and conflicts you yourself have imposed on yourself with your negative beliefs. In the one word "confident" you show not only lack of confidence, but stubbornness (wedge in "'t"), desire to have own way (down-slanting t-bar), fear of getting hurt emotionally (left slant), and emotional confusion (varying size of middle zone letters)—all the result of fear.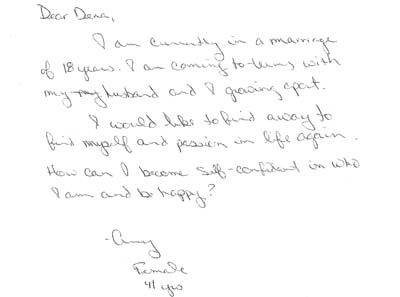 Number one: Be aware of your negative self-talk. Keep a journal; use talent in writing (figure 8 "g").
Number two: Listen more to your intuition (breaks between letters).
Number three: make high and strong t-bars on t-stems—not like the very low one on "confident." It will strengthen your will to make realistic goals. Your determination to reach them is very good (down-strokes on "g" and "y").
Number Four: Forget all about your faults and self-talk and concentrate on the things you love to do, want to do—where the passion is, not necessarily the talent.
Number five: It doesn't matter if you stay or get divorced. You have to see that your fear of getting hurt is hurting your marriage and will hurt the next relationship you have if you divorce. If it's because of past traumas, you have to decide if you are going to carry it with you as a "protection" or "excuse"—fooling yourself, rationalizing why…Or
Number six: Finally drop it and decide to trust the universe and life. Perhaps it will be when you realize that nobody really cares about your past "drama"—they are too busy with their own "dramas." You will then slant writing more to the right and make word endings to the right, being more willing to give of yourself, trusting the universe, trusting your needs will be met, trusting life.
And about happiness: I like the quote of Mahatma Gandhi on the subject: "Happiness is when what you think, what you say, and what you do, are in harmony."
Share